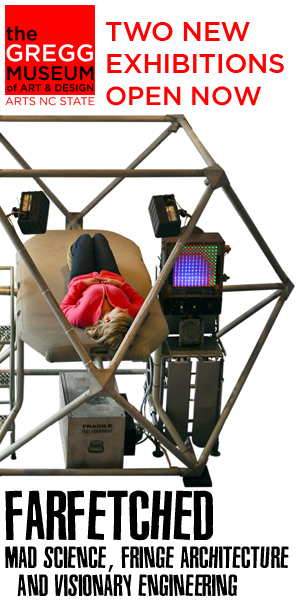 Duncan was interviewed on Frank Stasio's The State of Things today, talking about subtle energy, signals from rocks and plants, and the Purr Generator. Duncan is in Raleigh NC, for the opening of "Farfetched: Mad Science, Fringe Architecture and Visionary Engineering" at the Gregg Museum.
From the show notes:
In the age of constant digital stimulus, it can be hard to truly listen to all that's around you. Duncan Laurie will tell you that listening a little closer might bring you happiness or healing. Duncan has found ways to tap into the sonic energy of organic materials, like plants and rock.
Several of his pieces, including the joy-inducing Purr Generator, are currently on display at the Gregg Museum of Art and Design at North Carolina State University. They are part of the exhibit "Farfetched: Mad Science, Fringe Architecture and Visionary Engineering." Duncan Laurie is an artist, researcher and author of "The Secret Art: A Brief History of Radionics Technology for the Creative Individual" (Anomalist Books/2009), and he joins host Frank Stasio in the studio.
And the exhibit notes:
The Gregg Museum's spring 2013 exhibition Farfetched: Mad Science, Fringe Architecture and Visionary Engineering takes as its basic point of departure British mathematician Alfred North Whitehead's famous quip that, "Every really new idea looks crazy at first." The exhibition will feature objects that question (and push) the boundaries of what is considered "normal" in art and technology.
For example, Frank Lloyd Wright was considered a great architect, and Norman Bel Geddes was recognized as a great designer, but neither Wright's visionary mile high city (The Illinois), nor Geddes's proposed flying wing (Air Liner Number 4) ever proved feasible (no wonder; the air liner would have had nine decks and incorporated areas for deck-games, an orchestra, a gymnasium, a solarium and a machine shop for in-flight repairs).
Meanwhile, an uneducated Hispanic handyman named Simon Rodia, who was labeled insane, really did manage to build the famous Watts Towers in Los Angeles—singlehandedly and so sturdily that the towers couldn't be torn down (city engineers tried). Some of the greatest scientists, architects, and engineers who ever lived—Galileo, Newton, Tesla, Marconi, the Wright brothers—were accused of insanity at one time or another during their careers.
Thinking big (or "thinking outside the box") in both art and science means taking risks, and even risking failure. To make this point, Farfetched will include works by both mainstream and "outsider" artists and scientists, ranging from Perpetual Motion Machines to Orgone Generators.